Free Pregnancy Tests
Our confidential pregnancy tests: 1. Performed in a safe and comfortable atmosphere 2. Results are available immediately 3. All information is strictly confidential 4. Pregnancy tests are highly reliable 5. Tests may be repeated any time at no cost
If you think you're pregnant & want to talk, call us. You can reach a caring, trained peer-counselor by calling (805) 644-3307.
Confidential Counseling
It always helps to talk with someone, many of our volunteers have been in your place. You have many questions to be answered; you need a place to go where your confidentiality will be respected. The Ventura County Pregnancy Center is a place where you can discuss your options, a place where solutions can be examined. We are here to help you find the best solution for you.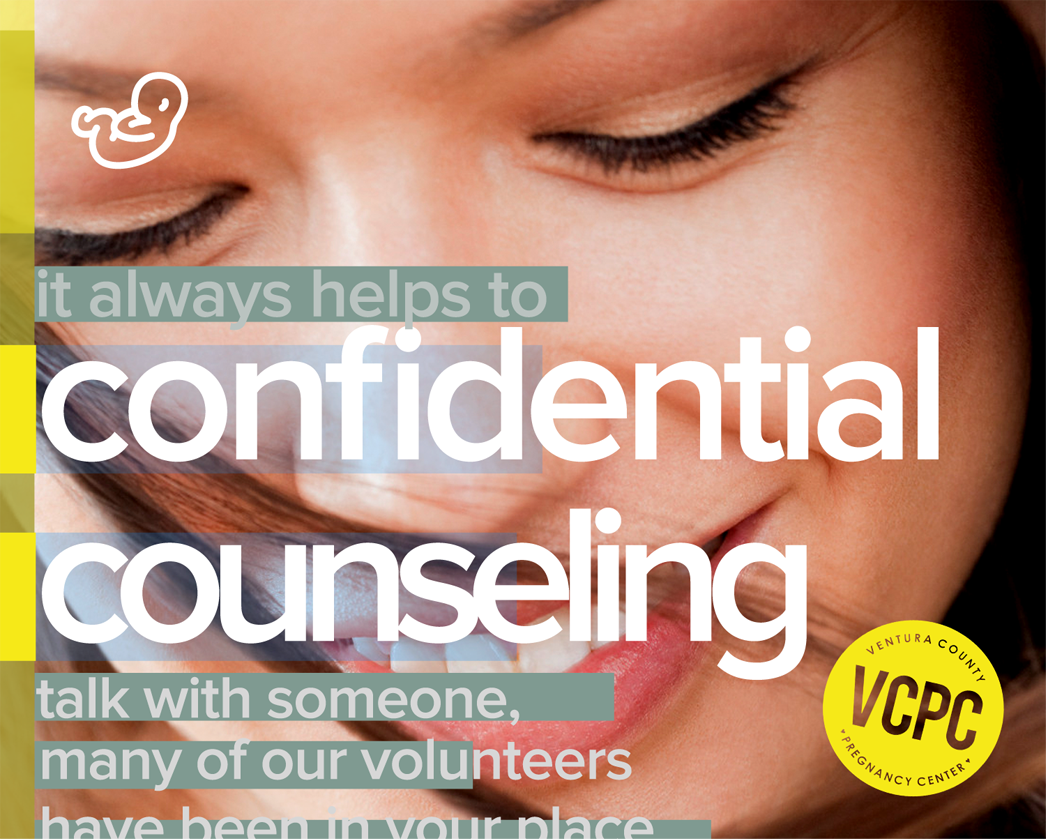 Pregnancy Verification Referral
If the pregnancy center test suggests pregnancy, then at your request we can arrange to refer you to a physician to verify your pregnancy and determine how far along you are in your pregnancy.
Referral for Free Ultrasound
We offer Referral for Free Ultrasound to verify a viable uterine pregnancy up to 14 weeks.
Earn While You Learn
Be the best parent you can be
& earn what your baby needs!
Pregnancy and parenting are filled with lots of uncertainty.. This program helps to answer many of the questions you have and ease your anxiety. You can Earn While You Learn– with each lesson that you complete you will earn 'baby bucks' for baby supplies and other materials. Many people want to learn how to be good parents and raise a healthy, happy child. The center staff is available to provide support and resources during this time of transition and change. The lessons are fun, interesting and practical. We can help you learn how to be the best parent you can be.
Maternity & Baby Boutique
is now an in-house store for clients who attend classes to redeem their baby bucks! Clients can use their baby bucks to obtain maternity and baby clothes as well as baby furniture and supplies. All our classes are provided free of charge and our clients' information is kept strictly confidential.
Abstinence Education
Most sexually experienced teens wish they had waited. More than two-thirds of sexually experienced teens express regrets about having sex so soon. Broken down by gender, 60% of boys expressed regret and 77% of girls wish they had waited. * These statistics indicate that sexually experienced teens are open to a different choice in the future. Renewing an abstinence lifestyle can resonate with sexually experienced teens and research validates this to be the case for many.
*Albert, B. (2007). With One Voice 2007. Washington, DC: the National Campaign to Prevent Teen Pregnancy
Healing Hearts
New groups for Healing Hearts:
Pre-registration is required
Binding Up the Brokenhearted
Binding Up the Brokenhearted – For those dealing
with issues relating to a past abortion – Pre-registration is required
Meets here the at VCPC in Ventura – email Mary Ann at
vcpc.maryann@gmail.com or call VCPC 805-644-3307 for information
Post Abortion Trauma is an adverse emotional reaction to abortion. It is often a delayed reaction and can surface at any time in a person's life… And when it does, it can be confusing, painful, and overwhelming… Have you personally had an abortion? A Healing Hearts Bible study can help.
Contact us for more information on Healing Hearts.
The Hem of His Garment
The Hem of His Garment – Pre-registration is required
Meets at Calvary Nexus in Camarillo – email Mary Ann at
vcpc.maryann@gmail or call VCPC 805-644-3307 for information
Many women stuff their feelings regarding past hurts and afflictions, rather than deal with with them. This study helps women who have suffered loss, sexual abuse, divorce, rape, and many other traumas. If you are not free from the bondage that past or current affliction brings… your heart needs to be mended.
Contact us for more information on Healing Hearts.
Abortion Risks & Procedures
Information On Abortion Risks & Procedures
First trimester abortion is considered minor surgery. The risk of complications for the woman increases with advancing gestational age.
Below is a description of the risks that have been associated with abortion:
Pelvic Infection: Bacteria (germs) from the vagina or cervix may enter the uterus and cause an infection. Antibiotics may clear up such an infection. In rare cases, a repeat suction, hospitalization or surgery may be needed. Infection rates are less than 1 percent for suction curettage, 1.5 percent for D&E, and 5 percent for labor induction.
Incomplete abortion: Fetal parts or other products of pregnancy may not be completely emptied from the uterus, requiring further medical procedures. Incomplete abortion may result in infection and bleeding. The reported rate of such complications is less than 1 percent after a D&E; whereas, following a labor induction procedure, the rate may be as high as 36 percent.
Blood clots in the uterus: Blood clots that cause severe cramping occur in about 1 percent of all abortions. The clots usually are removed by a repeat suction curettage.
Heavy bleeding: Some amount of bleeding is common following an abortion. Heavy bleeding (hemorrhaging) is not common and may be treated by repeat suction, medication or, rarely, surgery. Ask the doctor to explain heavy bleeding and what to do if it occurs.
Cut or torn cervix: The opening of the uterus may be torn while it is being stretched open to allow medical instruments to pass through and into the uterus. This happens in less than 1 percent of first trimester abortions.
Perforation of the uterus wall: A medical instrument may go through the wall of the uterus. The reported rate is 1 out of every 500 abortions. Depending on the severity, perforation can lead to infection, heavy bleeding or both. Surgery may be required to repair the uterine tissue, and in the most severe cases hysterectomy may be required.
Anesthesia-related complications: As with other surgical procedures, anesthesia increases the risk of complications associated with abortion. The reported risks of anesthesia-related complications is around 1 per 5,000 abortions.
Rh Immune Globulin Therapy: Genetic material found on the surface of red blood cells is known as the Rh Factor. If a woman and her fetus have different Rh factors, she must receive medication to prevent the development of antibodies that would endanger future pregnancies.
Future childbearing: Early abortions that are not complicated by infection do not cause infertility or make it more difficult to carry a later pregnancy to term. Complications associated with an abortion or having many abortions may make it difficult to have children.
Because every person is different, one woman's emotional reaction to an abortion may be different from another's. After an abortion, a woman may have both positive and negative feelings, even at the same time. One woman may feel relief, both that the procedure is over and that she is no longer pregnant. Another woman may feel sad that she was in a position where all of her choices were hard ones. She may feel sad about ending the pregnancy. For a while after the abortion she also may feel a sense of emptiness or guilt, wondering whether or not her decision was right.
Some women who describe these feelings find they go away with time. Others find them more difficult to overcome. Certain factors can increase the chance that a woman may have a difficult adjustment to an abortion. One of these is not having any counseling before consenting to an abortion. When help and support from family and friends are not available, a woman's adjustment to the decision may be more of a problem. Other reasons why a woman's long-term response to an abortion can be poor may be related to past events in her life. For example, negative feelings could last longer if she has not had much practice making major life decisions or already has serious emotional problems. Talking with a professional and objective counselor can help a woman to consider her decision fully before she takes any action.
Source: State Of Louisiana Department Of Health & Hospitals
Adoption
Can adoption be a good choice for my baby? If you are not ready to be a parent,you can still give your baby the gift of life and choose adoption.

Adoption Facts
1. Can adoption be a good choice? You can plan your baby's future by selecting a stable, loving family to care for your baby and be proud of your decision. At birth you can see your baby, name your baby, love your baby. If you so choose, you can get updates on your child's progress while you continue your education and career goals. Finally, you avoid the trauma and heartache of abortion.
2. Can I place my baby with a family of my choice? YES! With most agencies you can choose a family friend, acquaintance, or someone who has been recommended to you even in another state. Or you can choose from parents screened by your adoption agency who have been waiting to become parents.
3. How much contact can I have with my baby after birth and after adoption? You may have as much contact with your baby at the hospital as is comfortable for you. You can choose an open adoption that allows ongoing visits, or you can choose a less open adoption where your updates come to you by letter and pictures arranged through your agency. Adoptive families respect your need to know your child is well cared for.
4. How soon after birth can my baby go to the parents I choose? This depends on: your choice of when this should happen; the legal aspects of the adoption; The cooperation of the birth father. Many birth mothers want their baby placed by the time they leave the hospital. Some prefer to place their baby in interim care while they think through their adoption decision.5. How much will my child know about me? We encourage you to pass on medical and social history to your child. You may choose whether or not to share your identity and where you live with the adoptive family. Or, if you have an open adoption, your child and adoptive family can have ongoing access to you and what's happening in your life.6. Does the father have any rights? The birth father's rights are equal to yours. If you disagree on adoption, or you no longer have a relationship with him, your agency will work with the court to determine if his rights can be terminated.7. Will my child have information about her/his birth father? This depends on his cooperation with you and the adoption agency. Some birth fathers give full social and medical history, realizing how important it is for your child to have this. At other times, only the information you give will be passed on.8. Can my child find me if he/she wants to search someday? At the time of the adoption, you can choose to have an open file to your child. If you do, he/she will have access to your identity and your agency will assist in the search. If you choose a closed adoption, your identity will remain anonymous.
9. How can I be sure my child will not be abused or neglected? Adoptive families approved by an agency must meet standards that will be shared with you. In an open adoption you will see for yourself how well your child is valued and cared for.
10. Do I need an attorney or do I pay my agency to assist me with the adoption? You do not need an attorney and there are no costs to you. Your adoption agency handles all legal details on your behalf. Most important, your agency knows your decision was not an easy one to make and will continue to be available to you if you so choose. For more information on adoption you can contact Bethany Christian Services.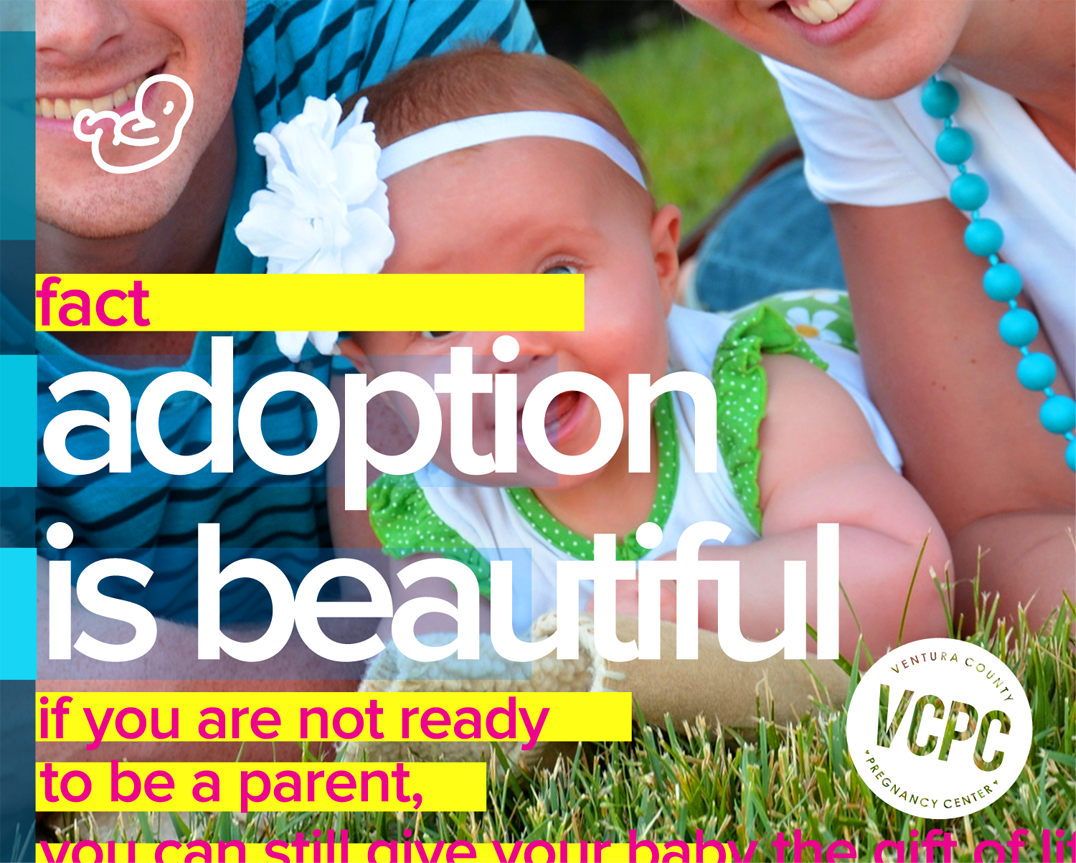 Hey Guys
Think About It

When you decide to become sexually involved with your girlfriend you need to think through the issues. Did you realize that condoms and other birth control methods do not guarantee that your girlfriend will not become pregnant? As a matter of fact, over a million young women in this country face unplanned pregnancies each year.
Seriously, as a guy,
how would you answer these 7 questions?
Ladies feel free to ask him these questions especially when things begin to get physical. His answers may surprise you!
There are some serious questions a responsible man needs to ask himself, because if you are going to become sexually active, the fact is you may get a girl pregnant.
1) If your girlfriend were to become pregnant would you leave her? (unfortunately, many boyfriends do)
2) Are you ready to support a child with your time, energy and money?
3) Will you go with your girlfriend to tell her parents the news? (most guys won't)
4) Are you willing to marry her and give your child a legitimate family?
5) Would you be willing to release your child for an adoption?
6) Will you put pressure on her to have an abortion?
(The majority of boyfriends will)
7) Are you willing to learn about abortion risks and procedures so that you can know ahead of time about all possible complications and risks. The abortion procedure is generally over quickly but it is very important that all body parts are accounted for. Complications can occur.
If you are not ready to be a father and commit yourself in marriage to one woman, you should wait to have sex. The pain you can cause to your child and a woman are very real, it happens everyday. Be responsible for your actions and exercise your self-control.
The Ventura County Pregnancy Center is here for boyfriends.
If you are serious about your relationship and desire to be there for your girlfriend, give us a call at (805) 644-3307. There are trained peer-counselors that would love to speak with you and help you understand all of your options. All conversations are completely confidential.
The Value Of Life
During an interview, a famous female singer remarked how sickened she was when she heard a news story about doctors who had used a baboon's liver to save a man's life. "How can you place human life above every other form of life? Who do these people think they are?"
Who do we humans think we are?
If we listen to the mainstream educators and scientists in our society, we hear that we are only highly evolved versions of the bacteria that we trample under foot every day. These elite intellectuals have dismissed the once noble idea that men and women are the cherished fulfillment of an intelligent design; instead, we are the chance product of innumerable mistakes.
Each of us must arrive at answers to that singer's questions, especially because of the impact those answers will have on our lives, the lives of our loved ones, and the lives of every other human on this planet.
Because our society increasingly accepts the idea that our arrival in this life is based on little more than chance, is it any wonder that society is also approving the idea that our departure from this life is based on little more than whim? The unborn, the elderly, the handicapped, the terminally ill – each has been or could become the unwary victim of this ?easy come, easy go? philosophy. If we conclude that our presence in this world is not part of an ultimate plan, then our forced removal from this world becomes immeasurably easier to justify.
The Bible has much to say about God's involvement in our lives and the sanctity that He gives them. Just like a potter and his clay, God not only fashions our lives as we live them day by day, but He was also planning our lives before we ever came on the scene.
The Bible says that human life is sacred because:
1. God originated human life and sustains it.
Ecclesiastes 12:7 says that ?the dust returns to the ground it came from, and the spirit returns to God who gave it?. God originally began life through the first man and woman that He created (Genesis 1:26, 27), and He superintends every life from its earliest moments in the womb (Psalm 139: 15,16). God so thoroughly sustains every aspect of our life that the Bible says, ?If it were His [God's] intention and He withdrew His spirit and breath, all mankind would perish together and man would return to the dust? (Job 34:14,15)
2. God has stamped His image upon human life.
The distinguishing factor that sets mankind apart from baboons, whales, seagulls and all other animal life is that which forms the most fundamental part of his being. The Bible says that ?God created man in His own image, in the image of God He created him; male and female He created them? (Genesis 1:27). Note well that this image is bestowed on mankind by his Creator, not assigned to mankind by other humans based on a relative standard of individual worth.
In what ways do we see God's image in the people He has created? Theologians have for centuries debated how far that image permeates our lives, but there are certain areas of common agreement. Just as God is rational, moral, and has the ability to make free decisions based on His reason and conscience, so also we see those qualities in the people He has created. Self-awareness, self-sacrifice, intimacy, companionship, creativity – all of these human traits to one degree or another testify to the Creator that conferred them. The Bible also says that God has ?set eternity in the hearts of men? (Ecclesiastes 3:11) so that mankind is instinctively aware that there is more than just bare existence, but that there are ultimate goals and purposes and reasons for life.
This divine image that we bear as humans gives us value, and it invites God's concern for us. Commenting on God's special care for His creation, and for men and women in particular, Jesus Christ said, ?Are not two sparrows sold for a penny? Yet not one of them will fall to the ground apart from the will of your father. And even the very hairs of your head are all numbered. So don't be afraid; you are worth more than many sparrows?(Matthew 10:29-31).
So precious is this divine image in mankind that it deserves due protection. Any wanton attack on men and women created in God's image is tantamount to attacking God Himself. So God commanded, ?Whoever sheds the blood of man, by man shall his blood be shed; for in the image of God has God made man? (Genesis 9:6).
3. God has a plan for human life.
We were created on purpose, for a purpose. David, the Old Testament psalmist, wrote that ?All the days ordained for me were written in Your [God's] book before one of them came to be? (Psalm 139:16). The New Testament is explicit about our purpose in life when it says that ?[Christ] died for all, that those who live should no longer live for themselves but for Him who died for them and was raised again? (2 Corinthians 5:15).
We might hear the objection that our ability to bear God's image in this world is tied directly to our ability to function at a ?useful?level. However, ?useful? is relative, and too often what is ?useful? is defined by what we see when we look in the mirror. But more than just being dependent on our ability, God's purpose in our life is tied directly to His ability to use us, no matter what our physical or mental condition.
4. A Successful Human Being
Marshall and Susan had a daughter they named Mandy. In God's plan, Mandy entered this world with a condition called microcephaly (small brain). As Marshall described her, ?She would never walk, talk, sit up or use her hands. She suffered frequent seizures. Cataracts had to be surgically removed from her eyes when she was three months old. We never knew if she could see or hear. Trips to medical facilities happened so frequently, we started calling these our Club Med vacations.?
In God's plan, Mandy lived only two years before her body was overcome by a bout with pneumonia. But those two years were filled with the realization of God's purposes for her. Christians in the medical community who treated Mandy came forward to assure Marshall and Susan that they were praying for them. She quickly became ?the church's kid,? often being passed from lap to loving lap during the church's worship services. Strangers would see her and inquire about her condition, which often led to the deeper questions of why does this happen? What can we learn from her? Where does the strength come to care for her? Even during her last hours in the hospital, Mandy was visited by a stream of people who sensed their need to be with her, to confess their sins, and to draw near to God.
After Mandy died, Marshall wrote, ?God's assignment for Mandy was to live without many of the resources I previously took for granted. But His purpose for her was as significant as for any other…Could a sightless, wordless, helpless infant who lived to be only two years old ever be a 'successful human being'? If success is fulfilling God's purposes, I consider Mandy wildly successful.?
Our Human life is sacred not because of what we can do, but because of who we are. God has dared to choose ?the foolish things of the world to shame the wise…the weak things of the world to shame the strong…the lowly things…the despised things – and the things that are not – to nullify the things that are, so that no one may boast before Him? (1 Corinthians1:27-29). We dare not choose differently, and we dare not demean those who bear the Creator's image and live in the Creator's plan.